Customer feedback

Feedback and Reviews are important to convince customers in the exploration phase to a purchase. The customer feedback and the satisfaction scores are indexed in search engines.
You can find the settings at Marketing > Customer feedback.
If Customer feedback is not displayed in the menu, first adjust the user level to Advanced, at Settings > User experience level.
Automatically sending a feedback invitation
You can invite your customers to place a review a few days after ordering.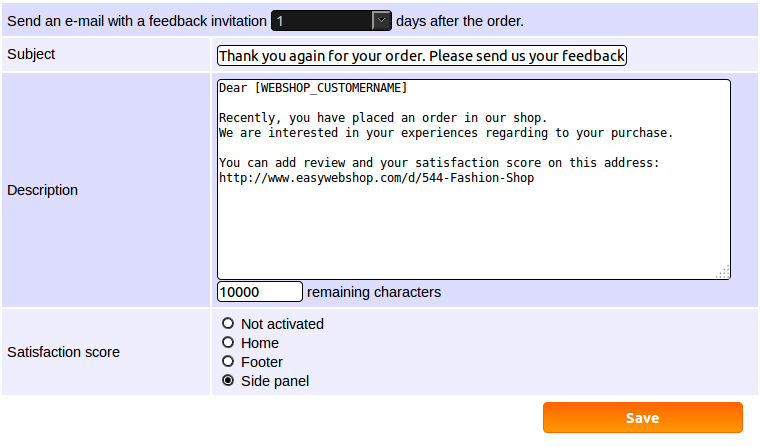 Choose how many days after the order you want to send a feedback invitation (5 days by default)
You can customize the message in the e-mail at Settings > Automatic emails
Click Save
The e-mails with feedback invitations are sent daily at approximately 13h CET.
Displaying customer satisfaction in your shop
You can display the satisfaction score in your shop.
At the top of the homepage
At the bottom of the homepage
In the side panel
Make your selection and click Save. The widget is automatically installed and your customers can write reviews.
Responding to reviews
At the bottom you (as merchant) can reply to the reviews.
Product reviews
You can let customers review your products. As a merchant, you can delete the product reviews.
Adjust the display to Advanced so you can see all the product options
Click the bar Reviews and click Activate
That's it! Your customers can now place reviews on your products.
Deleting reviews
Product reviews can be deleted by the merchant.
Customer reviews can not be deleted by the merchant for obvious reasons. You can however reply to them.
---
Next page: Sending newsletters >>>